Introduction to Partition Manager Server
As a Server partition manager specially designed for Windows Server 2000/2003/2008, MiniTool Partition Wizard Server Edtion helps both common users and professionals to manage disk partition under Windows Server as well as non-server operating systems by performing partition management operations ranging from basic to advanced ones such as Resize/Move partitions, Partition Recovery, Copy Partition, Convert FAT32 to NTFS, Merge Partition, Change Cluster Size, etc.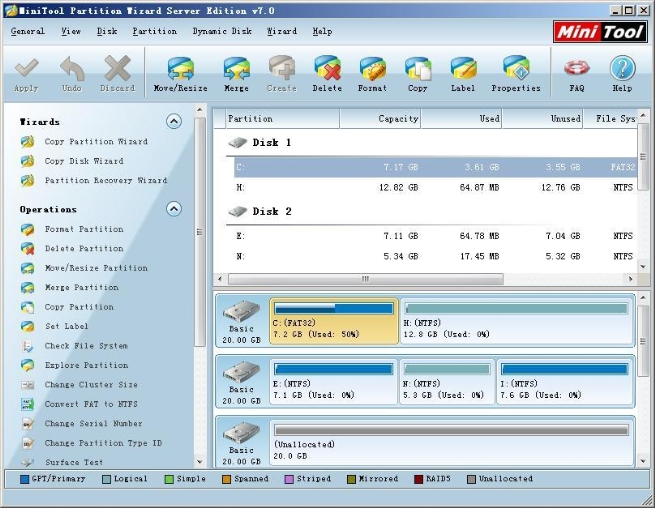 Panoramic view of Partition Manager Server
Resize (extend/shrink/move) partition
Merge small partitions into a bigger one
Create partition
Format Partition
Explore partition
Hide/Unhide Partitions to protect privacy
Set Active partition to specify desired boot partition.
Change drive letter
Change cluster size
Surface Test
Delete all partitions with one step
Set Partition Label
Change Partition Type ID
Rebuild MBR
Check file system and fix possible errors
Wipe Partition to guarantee that the partition data can not be recovered by any data recovery solution.

Accessory rewarding Features:
Fantastic Security Performance due to Enhanced Data Protection Mode
Easy-to-use Wizard-style GUI
Pre-execution Preview
Undo or Discard operations
Support almost all Windows series operating systems
Support a selection of storage devices
Support dynamic disk management

How to resize/extend partition with this Partition Manager Server?
Firstly, launch MiniTool Partition Wizard Server Edition and then select the desired partition in the partition list, then click "Move/Resize" on the tool bar;
Secondly, set partition size by dragging the left and right arrows at the partition handle or directly entering values in the textboxes below. After setting, click "OK".
Lastly, click "Apply" when coming back to the main interface. Thus, the entire operation will be successfully executed safely and efficiently.